Choosing what to put on your skin after microneedling is essential to provide the building blocks to hydrate, replenish, and help heal the skin. But how do you find what's the best for your own unique skin? We have done the research on microneedling aftercare through our own experiences and provided what we believe will support fast healing and optimal results. Below we discuss the best formulas, ingredients, and products as a guide to what you can put on your skin after microneedling in a clinical setting or after using a derma roller at home.
All products recommended on Proneedling are independently selected by our editorial team. If you make a purchase through any of these links, we may receive a commission.
How To Choose What To Put On Skin After Microneedling
The goal when choosing products is to provide the skin cells with essential nutrients and building blocks to optimize health, which will then result in an improved appearance. Serums and topical products should be linked to the conditions you are treating. The correct products will deliver active ingredients to target a variety of skin issues. Ask your dermatologist to determine what will work best for your individual skin type and issue.
What To Put On Skin Immediately After Microneedling
In the days after your microneedling treatment, you will generally experience several mild side effects which can include redness, swelling, and sunburned feeling skin. The micro-channels created provide little time for product penetration of topical creams and serums. The only product to be applied in the first 24 hours post treatment should be Hyaluronic acid.
Applying the right products immediately after microneedling will help reseal the skin, calm inflammation, and provide moisture and nutrients to combat signs of aging.
High Molecular Weight Hyaluronic Acid
The only product to be applied in the first 24 hours following treatment. Hyaluronic acid is an excellent lubricant and skin-rejuvenating ingredient that provides lasting moisture to your skin. Chemically, it's a sugar molecule that's produced naturally in the body and is most often found in your skin.
Applying high molecular weight hyaluronic acid to your skin will keep it moisturized and protect its natural barrier from outside pollutants. It also has amazing anti-inflammatory properties that help soothe swelling and calm sensitive skin. HA should be applied throughout the next week or two.
Why We Love It: A staple in everyday skincare routines. Calms dry, itchy, and sunburned feeling. Helps stimulate collagen production.
Pros
– Best Value
– Reputable Brand
What To Put On Skin After Microneedling (After 24 hours)
Days 1-5 are known as the inflammatory phase, where your skin will feel very dry and tight. Redness and swelling typically disappear within 24 hours of the procedure, after which you can apply some other ingredients to your skin to expedite overall healing and augment the results of the procedure.
Here's what you should put on your skin 24 hours after the procedure and beyond:
Gentle Cleanser
After 24 hours, you can now wash your face with a gentle cleanser. A gentle, hydrating cleanser is a must for your aftercare regimen. Use a cleanser that contains milder ingredients like Vitamin E or green tea. Choosing a product formulated particularly for sensitive skin will help keep your skin hydrated, supple, and soft. Avoid using products that contain artificial fragrances or other irritants.
Why We Love It: Formulated with great ingredients to keep skin clean for treatments or other serums
Pros
– Very Gentle
– Free Of Irritants And Parabens
Cons
– Better Options For Oily Skin
– Can Dry Out Skin If Not Combined With Lotion
Green Tea
There is no better antioxidant than green tea to protect the skin from environmental stressors like UV radiation. Due to its strong anti-inflammatory properties, you can use it to minimize swelling, redness, and irritation on the skin. It can be used in your regular routine and works well when used in combination with LED.
When used in a concentrated form, green tea extract acts as a powerful exfoliant to eliminate dead skin, bacteria, dirt, and other pollutants from your pores. It may also be effective against hyperpigmentation and swelling.
Why We Love It: ISNTREE provides a great green tea toner as well as a serum. Mainly formulated with green tea extract (80%) to soothe and revitalize your freshly microneedled skin.
Pros
– Deep Moisturizer
– Lightweight
Cons
– Not The Best Option For Oily Skin
– Smells Ok
Kiwi Oil
Kiwi oil is a mild, fast-absorbing moisturizer that leaves little to no oily residue on your skin upon application. It is concentrated with fatty acids that help calm irritated skin and reduce skin sensitivity. Due to its powerful antibacterial and anti-inflammatory properties, kiwi oil prevents infection or inflammation after microneedling.
Why We Love It: Great for post-microneedling as it works well for dry and sensitive skin and helps to avoid peeling. Applies great moisture without the greasy feeling
Pros
– Exceptionally Moisturizing and Soothing
– Rich In Omegas
Cons
– Hard To Find
– May Clog Pores
Vitamin C Oil
A Vitamin C serum or oil is a powerful anti-inflammatory agent that calms the skin and reduces puffiness. When used in a concentrated form, vitamin C acts as an exfoliant to clear out dead skin and unclog pores, both of which help reduce acne and dark spots. Use vitamin c to brighten your skin, smooth skin texture, and fight fine lines and wrinkles.
Why We Love It: This oil based formula is a great and powerful antioxidant for daytime use in combination with sunscreen.
Pros
– Brightens skin tone
– Affordable
Cons
– May Be Irritable
– Oily Texture
SPF
Sunscreen is of significant importance in the following days post-treatment and should be the last thing applied in the morning before you head out for the day. Sunscreen Photosensitivity is one of the most common side effects of microneedling. It can last from a few days to more than a week, depending on the extent of your treatment. Long micro-needles create deeper wounds that create higher photosensitivity and take more time to heal.
Dermatologists typically recommend avoiding sunscreen for the first 24 hours. However, if sun exposure is inevitable for you during that time, go for a zinc-based sunscreen that stays on the skin's surface to block UV rays. Sunscreens that absorb deeply into the skin can hamper the healing process. Stick to a minimum SPF 30 and use the sunscreen liberally and reapply it often.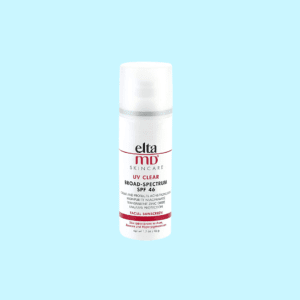 Why We Love It: A mineral based, broad spectrum SPF with hyaluronic acid and formulated with oxides. Provides great protection with excellent hydrating properties.
Pros
– Absorbs Well
– Great For Everyday Use
Cons
– Too Light For Darker Skin Types
– May Leave White Cast
Moisturizers
Frequent use of a moisturizer will help alleviate the dry and tight feeling after microneedling. Hyaluronic acid can serve as a moisturizer immediately following treatment, but in the following days, you may be looking for something new to replenish your skin throughout the day and night. Adding a gentle, basic moisturizer back into your routine after 24 hours will restore balance and provide nourishment.
Why We Love It: This powerful anti-aging cream provides a visibly firmer and healthier look to your facial skin. It's free of all parabens and fragrances and loaded with nutrients such as ceramides, peptides, and Vitamin E.
Pros
– Great For All Skin Types
– Dermatologist Recommended
Cons
– May Dry Some Skin
– Not For Oily Skin
Copper Peptides
Speaking of peptides….Products containing copper peptides are designed to improve skin firmness and elasticity. This skin-restoring ingredient promotes the production of elastin, collagen, and certain polysaccharide molecules that smoothen out the skin and reduce the appearance of wrinkles and fine lines.
Why We Love It: A great peptide blend that can help stimulate collagen production.
Pros
– Reputable Brand
– Appropriate Price To Quality
Growth Factors
Growth factors are proteins that stimulate cell proliferation and wound healing. They are produced by the skin cells to heal and repair damaged skin along with other cells. Due to their skin-repairing properties, they are found in a wide range of skin care products including serums and creams. The naturally occurring proteins are also capable of stimulating collagen and elastin products which helps improve skin firmness and elasticity.
Why We Love It: Award winning oil free, EGF serum that increases collagen and elastin production to fight off wrinkles and repair damaged skin.
Pros
– Restores Youthful Glow
– Skin-Repairing Properties
Serums
A carefully formulated serum can do wonders for your skin after microneedling. Almost all of the ingredients mentioned above are available in the form of water-based serums. A lightweight water-based serum containing any one or a combination of the above-mentioned ingredients can be used as a part of your skincare routine following microneedling.
Most dermatologists recommend using a hyaluronic acid serum to support multi-depth hydration. You can also include both an oil-based and a water-based serum in your skincare routine. Apply the oil-based serum before going to bed as it takes longer to absorb into the skin.
Check out our list of Best Microneedling Serums
What To Put On Skin After Microneedling At Home
The aftercare regimen for microneedling performed at home should not be different from that of office-based sessions. However, as office-based procedures often use longer needles that penetrate deeper into the skin, the side effects are more severe when microneedling is performed in a clinical setting.
Nonetheless, all skincare products containing harsh chemicals or strong exfoliants must be avoided for at least three days after the microneedling procedure. Avoid using retinol, vitamin C, glycolic acid, and other AHAs after micro needling or derma rolling at home.
Apply hyaluronic acid immediately after the procedure to calm swelling and minimize skin irritation. Using that products that contain the ingredients below after microneedling at home will help boost skin healing and enhance the results of the procedure:
Peptides
Vitamin A C or E
Growth Factors
Beta Carotene
Cytokines
Important Ingredients To Consider
Antioxidants
Incorporating antioxidant-rich products in your aftercare regimen is one of the best things you can do to augment the effects of microneedling. Antioxidants alleviate oxidative stress which breaks down collagen, triggering inflammation and hampering skin's natural healing process. Regular application of antioxidants will protect your skin against free radical damage and improve the skin's renewal process.
Resveratrol
Resveratrol has incredible skin-soothing properties that help with both redness and swelling. However, it cannot be used immediately after the procedure due to its high potency. It's used for a variety of inflammatory skin conditions including eczema, psoriasis, and rosacea. It's also a good idea to incorporate it into your regular skincare routine.
Vitamin A
Vitamin A can be great in the days following microneedling. With the ability to prevent cell damage, vitamin A is an excellent choice for people having active acne, acne scars, hyperpigmentation, sunspots, and/or uneven skin tone. It promotes cell regeneration and protects the skin from environmental stressors like pollution and UV radiation. It's recommended to wait between 5 to 7 days after treatment to avoid irritation.
Vitamin E
If you experience severe dryness post microneedling, you must include a product containing vitamin E in your aftercare regimen. It forms a natural barrier on the skin to lock in moisture and provide sustained hydration. When used in combination with vitamin C, the fat-soluble vitamin can help fade dark spots and reduce hyperpigmentation.
Due to its protective effects against UV rays, vitamin E is widely used in sunscreens and sunburn relief creams. If your sunscreen contains vitamin E, using other products with this ingredient may not be a good idea. Putting too much vitamin E on your skin can cause irritation or a rash.
What Should You Not Put On Your Face After Microneedling?
Avoid products containing harsh chemicals such as exfoliants, acids (AHAs/BHAs), alcohol-based toners, preservatives, or fragrances. Increased use of facial moisturizers containing emollients or humectants may cause acne and dry out the skin. While many of these ingredients are popular in most modern-day skincare products and are sometimes unavoidable, they should be used in moderation.
Final Tip
Remember, choosing the right products to apply to your skin after a microneedling treatment is all about formulas and ingredients, not branding. This guide provides a great starting point to find what works best for your unique skin. Choosing the right products will help calm the effects of the treatment while also providing an anti-aging defense in the days after microneedling.
FAQ
Should I Wash My Face After Microneedling?
You may rinse your face with warm tepid water after microneedling but do not use a gentle cleanser until after 24 hours.
When Should I Moisturize After Microneedling?
You should moisturize immediately after treatment with Hyaluronic Acid.
Can I use Cerave after Microneedling?
CeraVe products should be avoided until after the first-day post treatment. CeraVe has some great moisturizers and hyaluronic acid products to use after the first 24 hours.
Can I Use Niacinamide After Microneedling?
Niacinamide should not be applied right after the microneedling procedure, but you may safely include it in your routine after about 72 hours, as long as your skin feels fine. If your skin still has redness and irritation, wait until it heals more.
How To Remove Dead Skin After Microneedling?
After treatment, do not attempt to remove the dead skin. Instead, moisturize to conceal the flakes, or use an enzyme peel around days 4-5.